Welcome to our Infrastructure Projects Page!
Please see below for summaries of projects currently ongoing in our community. This list is not all inclusive and summarizing often complex and detailed engineering projects can be challenging. So please, please engage staff with any questions, comments, and concerns. We would love to discuss with you!
This page was last updated on April 1, 2020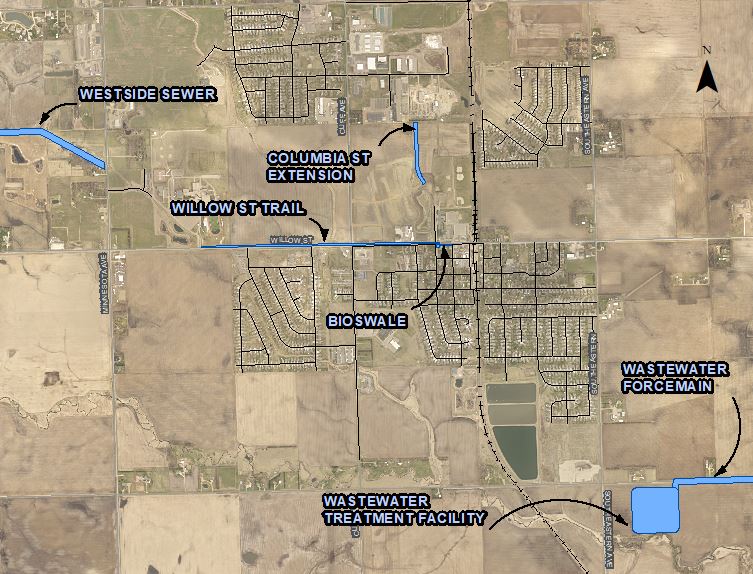 Low Impact Design Pilot Project (2/7/2020)
We are conducting a test project for low impact design of streets and storm water. This will be located on Willow St near City Hall. Construction is expected to begin in the spring of 2020.
Wastewater Treatment Facility (2/7/2020)
We are in the process of building our own wastewater treatment facility. The project is currently scheduled to break ground in in the spring of 2020 with construction occurring until the spring of 2021. Facility start up will occur during the summer of 2021. Our wastewater ponds 1 and 2 will be decommissioned after that and pond 3 will then only be used during high flows and emergencies.
Water Reclamation Facility Forcemain (4/1/2020)
Construction began in mid-March and will continue into summer.
Columbia St Extension (4/1/2020)
Columbia St will be extended from Foundation Dr to the northern end of Devitt development. Construction is expected to began in mid-March and will continue into summer.
Willow St Sidewalk (4/1/2020)
A sidewalk along the north side of Willow St from Liberty Elementary to the High School will be constructed in the summer of 2020. The project was bid and construction is expected to start soon.
Westside Trunk Sewer (2/7/2020)
The west side sewer will accommodate the new west side school as well as development along its route. The schedule for construction is spring 2020.
Cliff Ave and Willow St Intersection (2/7/2020)
This intersection is owned jointly by the Harrisburg and Lincoln County. The City is conducting a preliminary design of the intersection to be finalized in the spring of 2020.
East Side Drainage Study (9/17/19)
We are studying the drainage basin north of Willow St and east of the railroad which includes the Legendary Estates stormwater outlet and N Southeastern Ave. Once this is complete, we can then determine drainage solutions for the the southeast area of town including the Willow St ditch, Perry Ave, and Anna Way.
Arterial Street Funding Study (4/1/2020)
An arterial street funding study for our city is nearing completion. We expect to implement the funding system soon.
Slurry Seal 2020 (2/7/2020)
We will be applying slurry seal to several streets in Harrisburg again in 2020, including S Perry, E Maple, Hickory, Lien, and Macey. The project will take 2 to 3 days to complete and will occur in the summer.
Willow St Railroad Crossing (4/1/2020)
The DOT is planning to improve the railroad crossing on Willow in 2021. The crossing arms are planned to be updated and sidewalk replaced and installed on the south side after that.
Pedestrian/ADA Plan (9/17/19)
We are in the process of developing a pedestrian and ADA improvement plan in Harrisburg. We are currently gathering data of our current sidewalk system. We hope to have a draft plan to city boards in early 2020.
Parks Master Plan (9/17/19)
We are in the early stages of developing a master plan for current and future parks facilities. We hope to bring information to city boards in early 2020.


Projects of Interest by Others
Lincoln County Master Drainage Plan (11/4/19)
The county is conducting a drainage planning study, primarily in northern Lincoln County. This is ongoing and will extend into 2020.
Highway 115 Reconstruction (SDDOT) (4/1/2020)
This is a two year project. In 2019 Highway 115 (Minnesota Ave) from Willow St to Cardinal Pl was reconstructed. In 2020, reconstruction will occur from Cardinal Pl to 85th St. 
Construction is scheduled to start up April 4, 2020.