Welcome to our Infrastructure Projects Page!
Please see below for summaries of projects currently ongoing in our community. This list is not all inclusive and summarizing often complex and detailed engineering projects can be challenging. So please, please engage staff with any questions, comments, and concerns. We would love to discuss with you!
This page was last updated on August 19, 2019
Streets Slurry Seal (8/19/19)
The Slurry Seal Project is expected to start Tuesday, August 20. (We know this is the start date of school; all the wet weather pushed this project back from June.) This will take approximately 3 days to complete. Operations are expected to start each day after 8:00 am and may go into the evening. This is all weather dependent.
Slurry seal is essentially a thin asphalt protective coating that is applied to streets to increase their useful life. Each street will be closed to all traffic during operation and until the seal cures out, which may take up to 4-6 hours. All vehicles and trailers not removed from the street by 7:00 am will be towed. Please remove all sump pumps lines from the street as the street needs to be dry.
Here is the tentative schedule:
Day 1 – Tuesday, August 20 : Miah St (Southeastern Ave to N Perry Ln), Legendary Dr (Southeastern Ave to A Ave), Josh St (N Perry Ln to Thelma Ave), Macey Ave (Legendary Dr to Brannon Dr), Brannon Dr (Macey Ave to N Perry Ln), Tiger St (Raven Ave to S Perry Ln), Ash Grove St, Woodmont Ave
Day 2 – Wednesday, August 21 : N Perry Ln, Raven Ave, Eagle Ave, Falcon Ave, Linden Ave, Greyhawk Ct
Day 3 – Thursday, August 22 : S Perry Ln (Southeastern Ave to Chestnut St), Thelma Ave (Josh St to Marie Dr)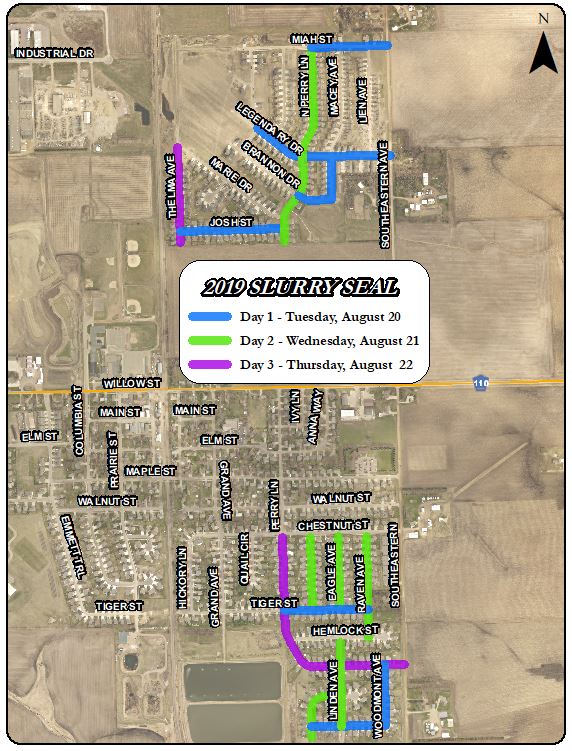 Concrete Repairs (8/1/19)
Spot repairs on curb and gutter, valley gutters, and sidewalks is occurring throughout Harrisburg. This is an annual program.
Lewis & Clark Rural Water System Meter Upsizing (6/25/19)
We are upsizng the size of our meter at the intake building so that Lewis and Clark Rural Water System can better provide us water during current peak use.
Westside Master Drainage Plan (6/25/19)
A hydraulic engineering consultant has been modeling the basins on the north and west side of Harrisburg to develop a master drainage plan. This will help us immensely in planning for development and understanding our current and future stormwater infrastructure needs. We expect this to be finalized in August.
East Side Drainage Study and Improvement Analysis (6/12/19)
We are beginning to study the drainage basin north of Willow St and east of the railroad which includes the Legendary Estates stormwater outlet and N Southeastern Ave. The study is expected to take about 6 months. Once this is complete, we can then determine the appropriate road profile for N Southeastern Ave. Also after this study is complete, we can then determine drainage solutions for the the southeast area of town including the Willow St ditch, Perry Ave, and Anna Way.
Willow St Railroad Crossing (8/1/19)
The railroad crossing is planned to be improved for smoother vehicle crossing in the next couple of months. The crossing arms are planned to be updated and sidewalk replaced and installed on the south side in 2021.
Low Impact Design Pilot Project (6/12/19)
We are conducting a test project for low impact design of streets and storm water. The project is planned to be installed along Willow St this year or next year. It is currently being designed.
Arterial Street Funding Study (6/3/19)
An arterial street funding study for our city is underway. This is vital step in the complex process of determining how to pay for our arterial streets.
Sidewalks & Trails (5/28/19)
A sidewalk along the north side of Willow St from Liberty Elementary to the High School will likely be constructed in the summer of 2020. 
Staff is taking inventory of streets without sidewalks and locations of sidewalks in need of repairs and ADA improvements. After compiling this data, we will be working with our city boards and community organizations to prioritize the improvements. Then, a long term plan will be developed. Funding these improvements will likely dictate the schedule of installation.
Cliff Ave and Willow St Intersection (5/28/19)
This intersection is owned jointly by the Harrisburg and Lincoln County. Harrisburg recently conducted a traffic study of the high traffic intersections in Harrisburg, including this one. Lincoln County is currently conducting a Transportation Master Plan. Once the study is completed later this summer, we use this data to determine the best path forward for this intersection.
Wastewater Treatment Facility & Existing Lagoons (Last Updated 4/26/19)
We are in the process of building our own wastewater treatment facility. During the past few months we've been selecting our team of consultants to assist us in this endeavor. The project is currently at 30% design phase and we are scheduled to break ground in the fall of 2019 with construction occurring until spring of 2021. Facility start up will occur during the summer of 2021. In the fall of 2021 our wastewater ponds 1 and 2 will be decommissioned and pond 3 will then only be used during high flows and emergencies. Meetings with our construction management team are ongoing.


Projects of Interest by Others
Lincoln County Master Transportation Plan (Lincoln County, SDDOT, & MPO) (7/16/19)
Lincoln County, SDDOT, and Sioux Falls Metropolitan Planning Organization are currently studying the county road system to prioritize improvements in response to the rapid growth. This report is expected to be completed this fall. The information from their study of their roads will assist Harrisburg immensely in our future transportation planning of our roads.
Highway 115 Reconstruction (SDDOT) (8/1/19)
This is a 2 year project. In 2019, Highway 115 (Minnesota Ave) from just south of the intersection of Highways 115 and 110 (Minnesota Ave and Willow St) north to Cardinal Pl (just south of 271st St) will be completely reconstructed. In 2020, reconstruction will occur from Cardinal Pl to 85th St.
The southern portion of the 2019 project, from just south of the intersection of Minnesota Ave and Willow St to the apple orchard will be closed from about April to about September. The remainder, from the orchard to Cardinal Pl will be closed from about September to about November. The intersection of Minnesota Ave and Willow St will be closed this summer for 40 days. This will likely not occur all at one time. The exact closure dates are not yet known.
As soon as we have any additional information, we will disperse it to you via our city website and/or our Facebook page. For the most up-to-date and accurate information, please contact the DOT directly. The road closures will be an unavoidable inconvenience for a while. Please allow yourself extra time for travel in consideration of this.